Kavita S. Karlekar, MD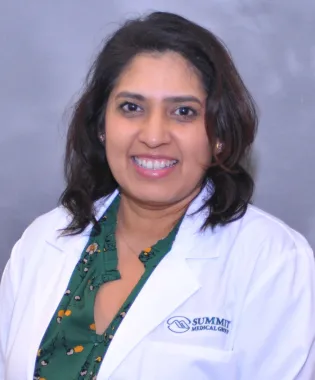 Specialty
Internal Medicine
Pediatrics
Residency
University of Medicine and Dentistry of New Jersey
About Dr. Karlekar
Dr. Karlekar was born in Midland, TX, but moved frequently throughout her childhood, living in Texas, Saudi Arabia and completing high school at the American International School of Vienna in Vienna, Austria. She recently relocated to middle TN from the New York area where she completed her residency, including a year as Chief Medical Resident at the University of Medicine and Dentistry of New Jersey in Hackensack, NJ. She enjoys traveling, music and hopes to earn her scuba diving certification in the near future.
Dr. Karlekar attended Brown University in Providence, RI where she earned a double major in Human Biology and South Asian Studies. She continued her academic pursuits at Brown Medical School, including a semester abroad program in India where she volunteered for UNICEF. Dr. Karlekar is board certified in Internal Medicine and Pediatrics as well as being certified in ACLS, PALS and NALS.
Dr. Karlekar is an active volunteer and researcher and has earned several awards. She received the National Health Service Corps in 1999, several intern and resident of the month awards during residency and the Annual Medical Student Golden Apple Award for Teaching in 2002-2003. Dr. Karlekar has published several papers related to ocular and nasal allergy, influenza and emerging pathogens. Her work has been presented at the American Academy of Allergy, Asthma and Immunology national conferences. Her professional focus has been in addressing the needs of the underserved populations in the northeast and worldwide and plans one day to practice international medicine.
Dr. Karlekar enjoys spending time with her husband and twin sons.