CT & CTA Scans
Diagnostic Imaging Services
What is a CT scan? How does it differ from a CTA?
Computed tomography (CT) is a method of body imaging in which a thin x-ray beam rotates around the patient. Small detectors measure the amount of x-rays that make it through the patient or particular area of interest. A computer analyzes the data to reconstruct 3- dimensional and cross-sectional images. This enables the physician to identify and locate abnormalities accurately.

CT Angiography (CTA) combines a CT scan with an injection of special contrast to visualize blood flow and blood vessel integrity in various parts of the body.

If you are pregnant, please discuss with your physician prior to scheduling a CT/CTA scan. Please also notify the schedulers when making your appointment, as well as the technician at the imaging center.
Maximum weight capacity for CT/CTA equipment: 550 lbs.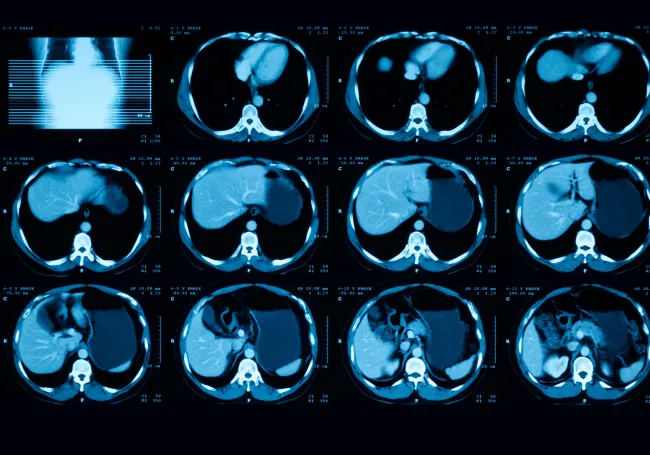 Allergies

If you are allergic to x-ray dye, IVP dye or iodine, or think you might be, please inform the receptionist upon arrival and the technologist when you meet.
Non Contrast Studies (any area)

If your CT exam is known to be done without the use of IV contrast, there is no prep.
CT with IV or Oral Contrast Prep

If your CT exam is to be performed with IV contrast, see below in addition to General Prep.

Do not eat for 4 hours prior to the exam.
Drinking clear liquids only is strongly encouraged the evening before the exam, the morning of the exam and following the exam.
CT Abdomen and/or Pelvis Studies

CT Abdomen and/or Pelvis Studies may require you to drink a bottle of barium prior to arriving for your scan.


If your scan if at noon or earlier, drink the barium at 10 p.m. the night before.
If the scan is scheduled after noon, drink barium at 7 a.m. the day of the exam.
Two additional contrast drinks may be required upon arrival.
CTA or Abdomen and Pelvis exams

DO NOT DRINK BARIUM. Your doctor may order a rare exception for kidney stones but never for a CTA.

Medications (when CT scan is with IV contrast)

Non-Steroidal Anti-Inflammatory Drugs (NSAIDS): Discontinue 48 hours prior to exam and resume 48 hours after the exam.
Glucophage or Metformin: Do not take either medication for 48 hours after your exam.
Some medications that contain these drugs may not bear their names. If you are a diabetic and take an oral medication, ask your doctor or pharmacist to identify if your medicine contains any of these.
How Does a CT Scan Work?
This video explains how a CT scan works, their different uses, and what to expect before, during, and after your CT scan.
Frequently Asked Questions

Will it hurt?
Some discomfort may be experienced if you are required to have an injection.

Is this test dangerous?
No. The risk of harm from radiation and the contrast(if used) is small when compared to the benefits of the test.
When will I know the results?
Your physician should receive the results in 2-3 working days.

How long will it take?
Typically, no more than 30 minutes.
What should I wear?
Wear comfortable clothes with non-metal snaps or zippers. Sweat suits are preferred.
Are there any restrictions after the test?
No, you may resume your normal activities, and take your medications as prescribed by your physician. However, if you are a diabetic or on anti-inflammatory medications (NSAIDS), read the "Medications" section for further information.

How Are We Doing?
Do you have a compliment, suggestion or complaint?