Build the Dinner Table
Fueling Healthy Kids: Module 1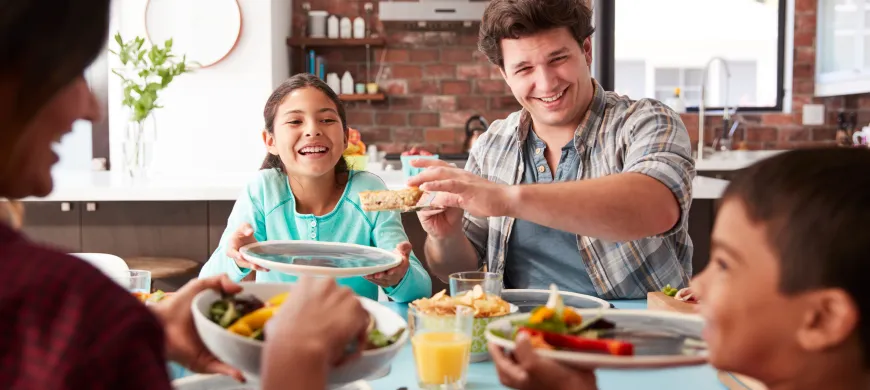 Building an inviting and intentional dinner table is essential towards raising kids that will broaden and accept new foods, & actively engage in conversation. Studies show us that prioritizing positive time at the table improves table manners, builds confident kids, establishes trust among parents and children and even reduces engagement in risky behaviors as they age.
We all know, this is easier said than done. I encourage you to explore the mindful mealtime program to help build tools for meal prep, planning and establishing a routine that can make dinner happen even on the busiest nights. Here are a few tips to get you started:
Designate a time to meal plan and stick with it. It might be more than once a week, but whatever the frequency, make it a part of your normal routine.
Be realistic with your time and goals to make meals happen. Success doesn't have to be measured by quick results or extravagant meals. Simple is sometimes the best option.
Keep it positive. The dinner table is not the time for new food trials or conversation that revolves around "one more bite" or "not until you finish your _____" - Make the table about reconnecting as a family, listening to each others days and making the experience fun.
The dinner table is not a time for new food trials. I am a strong believer in not being a short order cook. What is made for dinner is made for everyone.
Let's Make It Fun!
Here are some ways to take the focus off of food issues and make dinner time a fun, family-oriented event throughout the year.
Valentine's Day

Recommended Reading: "Have You Filled a Bucket Today?" Author: Carol McCloud

Place an empty jar on the dinner table and some paper hearts in another Use the book as a guideline on how to "fill someone's bucket." Go around the table and have everyone tell how they filled someone's bucket that day.

Summer Countdown!

Using a traditional paper chain, have each child write a question or a fun activity they want to do over the summer.

Each night, remove a ring to discuss the topic around the dinner table as you count down until school is out. Examples of activities they might select could include a favorite vacation spot, best summer read, or a new activity to try.

Thanksgiving

Thanksgiving is a traditional season of gratitude. Take your gratitude checks a step further and make your children a piece of fall décor. For example, buy a canvas at a local craft store and let the kids help outline with ribbon, and accessories. Keep a jar of markers on the dinner table and let each family member write something they are grateful for on the board each night.
A Question Jar

Have each family member write down five different questions on small slips of paper. Put all the questions in a jar for meal time conversation. You can also use other fun conversation starters - visit www.tabletopics.com for various ideas. (Travel-size games are great for out-to-eat!) There are also a variety of easy-to-manage table games that would work, including Tenzi, Story Cubes, and Headbanz.

The Joy Is In the Journey
Remember: There is no 'right way' or 'perfect method' to get conversations started. Each family is different, so try different ideas until you find one that really works for everyone in the family. It's a great way to take the focus off of potentially negative food situations, and can even result in new activities your family can enjoy at dinner and anywhere else!