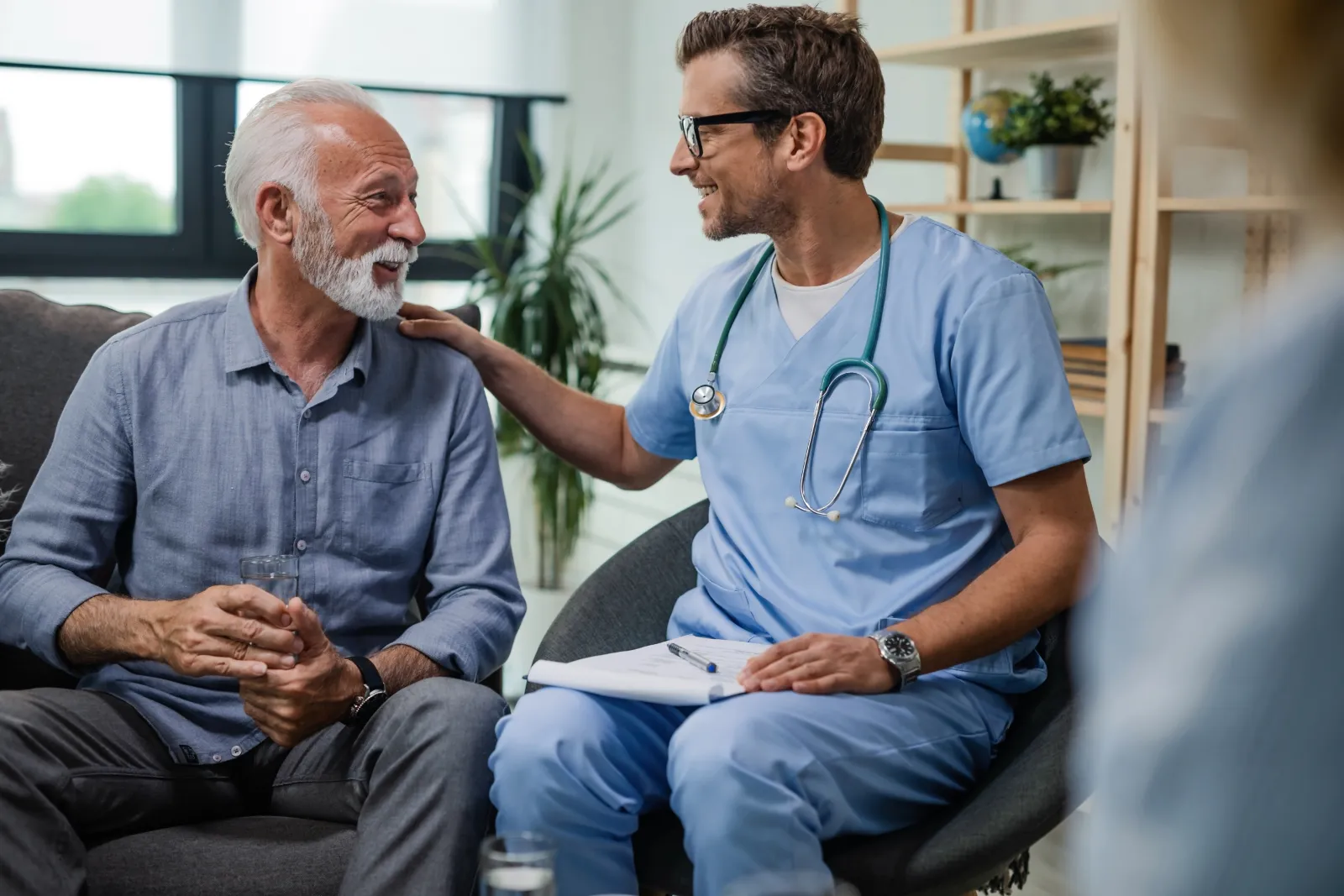 There are no two ways about it: we men don't take very good care of ourselves. Far too many of us don't ever see a doctor unless there's something seriously wrong or our partner or spouse makes the appointment for us. Men are half as likely to visit a doctor for a check-up as women are, and there are currently more than 7 million American men who haven't seen a doctor in at least 10 years. And even when we do go to the doctor, we often don't feel comfortable talking about our health.
So why don't we take better care of ourselves? Part of the reason is the way we're brought up. As little boys, we were likely taught not to cry, not to complain, or show any signs of weakness. We ignored our aches and pains and played through our injuries. In our 20s, we think we're indestructible and see going to the doctor as a waste of time and money. In our 30s, we're too busy with our career and family to go, and by the time we're in our 40s we don't go because we're afraid of what we'll find out.
Being tough may have some advantages, but it's also killing us. Most life-threatening illnesses, including cancer, heart disease, and diabetes, can be treated or cured if they're caught early. However, one recent study found that two-thirds of men wouldn't even go to the doctor if they were experiencing chest pain or shortness of breath—two early warning signs of a heart attack.
The first step in changing this is easy: If you can't remember the last time you had a complete physical, pick up the phone and make an appointment. (You wouldn't let 10 years go between oil changes, would you?) If something is hurting or doesn't seem right, or even if you're feeling great, make the call. Even if you're feeling great, call anyway. The time to see your doctor isn't when you're in a hospital bed. It's now, when you're feeling healthy.
Making a Choice
Unfortunately, finding a good primary care physician isn't as easy as it should be—your insurance coverage may limit your choices and if you don't have insurance, cost can be a big factor. But starting and maintaining a long-lasting relationship with a good doctor is critical.
If it's been a long time since your last visit, you may be asking yourself, "How do I even find a doctor?" If you have medical coverage, start by checking the list of "preferred providers" (doctors covered by the insurance). Then ask friends or co-workers for recommendations. If you're in good health, you can probably go with a general practitioner. But if you know you have a particular problem, try to choose a specialist in that specific area of concern.
If you don't have health insurance, you may be eligible for free or low-cost healthcare and prescription drug assistance. You can find information on a number of programs, as well as Medicaid and Medicare, and even clinical trials online. Summit Medical Group partners with Accellacare, a clinical research company with a location in Knoxville, that facilitates clinical trial opportunities.
Building a Relationship
In reality, you aren't looking for just a doctor, you're looking for a health care partner. And just like any partners, you need a partnership agreement. Here's how it works:
It is your responsibility to give your doctor the information he or she needs to do his or her job. That means paying attention to your body and how you feel, being aware of unusual changes or aches and pains that don't go away, finding out as much as you can about the health of other members of your family, and answering all questions honestly. If you aren't truthful with your responses, your doctor won't be able to help you nearly as much.
It is the doctor's responsibility to use all the information you give him or her to help you stay healthy when you are, and to help you to get well when you're not.
It is your responsibility to then follow the doctor's recommendations. That means making the lifestyle changes he or she suggests, taking medication according to the directions, keeping follow-up appointments, and seeing specialists if/when required.
Preparing for Your First Visit
If you're starting a new relationship with a doctor, here are some suggestions that will help you optimize your first appointment:
Try to schedule your first appointment at a time when you aren't sick. This will give your doctor a baseline — allowing a comparison of your symptoms when you're ill to what is known about you when you're well.
Write down all the questions, worries, or concerns you have — even the private or embarrassing ones. What you tell your doctor is completely confidential (unless you're doing something to endanger another person).
Write down your family's medical history, including illnesses, diseases, chronic conditions, premature deaths, and so on. A "Time Out for Men's Health" self-assessment can help you collect all that information in one place. It's available for free at www.healthselfassessment.com. You can complete this self-assessment and take it with you when you go to the doctor.
Bring in all the medications you're taking, as well as vitamins, supplements and herbs.
Make a list of all your symptoms, allergies, or reactions to medications.
Be honest about smoking, drinking, drug use, sexual history, diet and exercise.
Write down the doctor's suggestions, advice, and answers to your questions.
If you feel your doctor isn't listening to you, find another one.
Most doctors are thrilled to have a patient who is truly participating in his health care. Finding a doctor that you can build a solid partnership with is one of the most effective ways to improve and protect your health. Prevention, early detection and treatment are key. With more than 300 providers on staff, Summit Medical Group is a great physician resource for men and boys of any age.
Don't be a statistic; find a doctor and begin the partnership of your lifetime!