Infusion Therapy 101
Patient Information
What is infusion therapy, and how does it work?
As technology continues to advance, so does healthcare. Infusion is the delivery of medication intravenously. This allows for more efficient treatment of chronic illness since it delivers medicine, antibiotics, and/or hydration directly into the bloodstream. Doctors often recommend infusion therapy if the patient's condition cannot be treated by traditional medicine.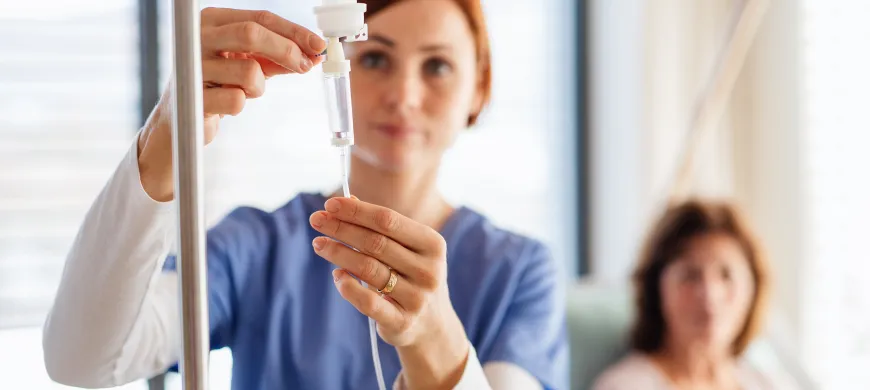 Infusion Therapy: Conditions & Treatment
What types of conditions can be treated?
| Area of Focus | Associated Conditions Treated |
| --- | --- |
| Cardiovascular | Congestive heart failure, edema |
| Chest/Respiratory | COPD/emphysema, pneumonia, asthma exacerbation, acute bronchitis, low oxygen level, fluid on the lungs |
| Digestive System | Diverticulitis, colitis exacerbation, gastritis, dehydration |
| Endocrine | Electrolyte abnormalities, kidney failure, dehydration, hyperglycemia, hypomagnesemia |
| Head and Neck | Intractable Migraine (infusion) |
| Hematologic | Iron infusions |
| Infectious Disease | Infections needing IV antibiotics |
| Musculoskeletal | Osteoporosis (Reclast) |
| Skin | Cellulitis, oral antibiotic failure, abscess, diabetic foot infections, rash |
| Urinary Tract | Bladder/kidney infections requiring IV treatment |
| Imaging | X-Ray on site |
| Infusion Medicine | Antibiotics, Anti-Nausea, Hydration, Iron, Magnesium, Steroids, Reclast, other |
What types of medications are available?
Medications are typically delivered using infusion therapy when oral or pill medications are insufficient or unavailable. Many of the newest medications are Biologic (made or derived from living cells) and cannot be taken orally because they will not remain effective after exposure to the digestive system.
The four main infused medication types and their specific medical uses are listed in the table below.

| Infused Medication Type | Definition/Medical Use |
| --- | --- |
| Antibiotics | Antibiotics treat bacterial infections by killing or decreasing the growth of bacteria. |
| Antibodies (IVIg) | Antibodies are proteins that your immune system makes to help fight infection and protect you from getting sick. |
| Biologics | Biologic medications are drugs that target specific parts of your immune system to treat conditions such as Crohn's Disease and Psoriasis. |
| Specialty medications | Specialty medications are used to treat specific, complex, and rare diseases such as cancer, multiple sclerosis and rheumatoid arthritis. |
Infusion vs. Injection
Along with infusions, injections are also a common method of delivering medication directly into the veins (and other areas of the body). Therefore, it is important to understand the difference between an infusion and an injection.
Some Intravenous (IV) medications are given through injections. Various types of injections include:
IV Push

- Medicine is administered slowly and intravenously by a syringe

Subcutaneous

- medicine is injected under the skin
Intramuscular

- medicine is injected into the muscle (pictured, left)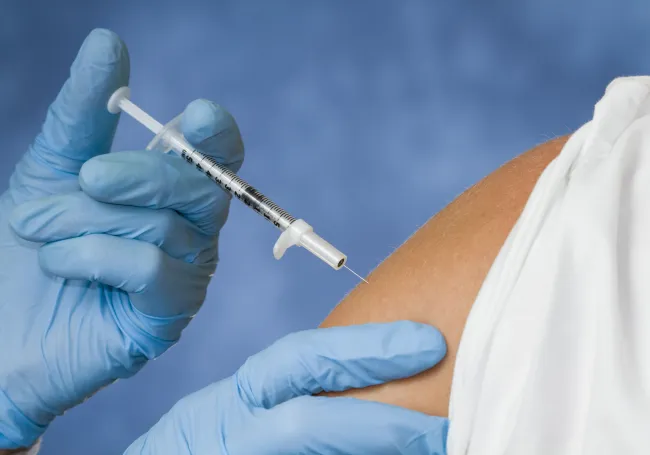 Our Location
Summit Infusion Services is located inside the:
Summit Express Clinic at Powell
7545 Barnett Way • Powell, TN 37849
Coming Soon: Infusion Services at Cedar Bluff!
A physician referral is required for all treatments.
Most insurances accepted.